London, England – November 11, 2013 – This week London is graced by the presence of Christian Kane. As part of his annual visit across the pond he attends the Vampire Ball and did a show in Camden's Jazz Café. And while the weather is exactly what you would imagine a London November day to look like, many fans already gather in front if the venue's glass doors to sneak a peak at his soundcheck.
Opening up the show were UK locals Gary Quinn, Paul Cattermole and Stewart Mac. Of which the first delivered great vocals and showed off talented songwriting, while the last stood out for his good music and relaxed and humorous show.
Kane was welcomed with big cheers by the international group of fans that made it out to the British capitol. Many of which make it a habit to come out and see him each year. Starting the show with "Happy Man", which was recorded by Trace Adkins, the mood was set for a great night. Making sure to play fan favourites like Whiskey In Mind, House Rules and Let Me Go. Christian also played two completely new songs; Sever and Dusty Rose. What was clear is how much he loves playing out here and connecting with the crowd just as much as they love seeing him. Sadly, the Jazz Café had an 11 o'clock curfew and the show was over before we knew it. Fans left wanting more but with great memories and a definite plan to be back again next year, when he does.
Before the show started Christian took the time to sit down and talk to us about his show, new music, movies and his fanbase. Have a look below to read all about it and see the pictures and videos from his London show.
You just finished your sound check for tonight's show and there's already about 20 people waiting outside!
Yeah it's great, it's great. I know, it's so early. It actually helps  us when we do sound checks because if people show up early you're kinda performing for them as well. They don't get to come in but at the same time, just knowing that they're out there, I get more amped up and I start getting that energy that builds up for the night. So instead of walking out and having it develop it's kinda already going.
And the door was cracked open a little bit so I'm sure they managed to hear something.
Great, I hope so. We play for them.
What can fans expect for this show?
We have a couple of friends of ours, who we know from coming over here to London for a while, opening up the show. They can expect a good night of music. I really like the fact that we're doing acoustic. We've been changing it up over the years but really love we're playing acoustic tonight out here with this weather, being in Camden's Jazz Café. It's going to be a nice little setting. We don't have to rock hard, I can actually bring it down and be a little bit softer. When I go play really big shows I don't get to connect with the fans, it's kinda like looking out over a Monet painting or something. But when it's intimate like this I get to connect with fans and hopefully there's some that never met me before. If you see me up on a big stage you don't know me, I'm just singing. With this setting I get to sing to them and I believe this is where we do our best work at developing new fans. It's way more intimate.
Can we expect you to play some new music?
You can! I'm here with my buddy Hank, Henry O'Connor, and we wrote a couple of songs that no one has ever heard before. There's two songs that people haven't heard that we wrote together. I'm not playing with some of my regular guys, I'll be playing with Hank tonight. We're gonna get a chance tonight to play our songs together for these people. So yeah, there will be new ones.
Do you have plans for getting out another album any time soon?
We were trying to get another album done before Christmas but my producer, who I'm gonna be working with out in Nashville who I did my very first album with, is not going to be available till after the first of the year because he's so busy right now. But after the first of the year we're gonna get together to collaborate and get another album out. So there definitely is a new album coming out!
Will you ever work with a label again?
No, no, no. Not again. I just won't do it. I can't. The fact of the matter is; I'm not gonna be Kenny Chesney. I don't think that a label can bring my songs to the people I wanna bring them to. So I'm doing this one on my own. That way I get to do my own style of music. We like to rock a little bit more. I don't care what people say. I'm from Oklahoma lets not forget that but lets also remember I grew up at the Viper Room. We grew up at a rock and roll venue on Sunset Boulevard, I didn't grow up playing in Nashville or in Oklahoma. I grew up in LA. And that's the kinda music I wanna do but when you're with a label and you're in Nashville they really want it to be country. They want to close it off in their envelope as what they think is right, which I don't believe at all. So this way I get to go out there and play my own music. It's gonna have more rock, which we used to have, before they started clipping our wings. So it's gonna be fun!
It's exciting to be able to see you do your own thing.
That's how we started. People will ask me; I've played some really big venues, played colosseums, I've played big stages with big artists but I don't think we've ever had as much fun as when we used to play the Viper Room. Intimate like this, rock and roll vibe and we could connect with the crowd. That's what I wanna get back to.
I mean, listen, Nashville wanted me to be an actor. They said: "We're not gonna play your songs because you're an actor". There have been so many actors that have gone out there and said they wanna do music and it really messed up the road for me. When my single came out, they were pushing Gwyneth Paltrow's single for her movie and she even told them: "I'm not gonna be a singer" but they were still pushing it. So they see these actors that come in, they release one song and if it does well then what ever and they still go back to acting. I'm always gonna be an actor and Nashville didn't want to play my songs because of that so fu@k 'em, I'm gonna be an actor and will do my own music my way. I always had more fun doing music for me and the people, instead of radio and the business.
And it's working for you!
Oh, it is. And let's be honest, I'm an actor, my first love is acting. I love playing music when it's on my own terms and I can get it across to the fans. They're spectacular. They've supported us through all these years. I wanna get my music out to them and I wanna do that without three or four people in between.
Therefore social media is a great way for you to get that music out and reach them.
That's the thing, there are so many chains and handcuffs that are used in the music industry these days for artists getting their stuff to the fans. I don't need it, I'm gonna be honest with ya, the internet is there, nobody really needs it anymore. It helps for some people that are already out there and that are really big but we don't need them anymore. Anybody can be a rockstar in their own mind and we have always been.
Do you try to actively stay in touch with fans or at least stay up to date with twitter and facebook?
I try to stay up to date with twitter. Sometimes it's hard for me to tweet 'cause I'm one of those guys that uses twitter for a business. I don't tweet: "I'm on the side of the road eating a hotdog, guys". I just don't do that stuff because whatever I say, I want them to believe me. That way you don't see a whole bunch of crap. If I got a show coming up you can guarantee that it's on twitter. I just don't like to fill twitter up with a bunch of bullshit that nobody really wants to listen to. I do like connecting with them, I need to do it more. I wanna get my thoughts and feelings across to the people that have been with me this whole time.
Obviously you have a big European fan base.
We do. We worked really hard for that over the last 10 years. It's so much fun! There's not a lot of people that can come out and do what we do. We're playing an acoustic show tonight and it's amazing to know how many people have bought tickets and showed up. It's amazing. They fly in from all over the world. It's easier for them to fly into the UK then it is to fly into Los Angeles. So it's so much better for them if I come over here. And I don't mind because when you come to a foreign country and people are singing your songs back to you whenever you're singing them, there's not a better feeling in the world. It's amazing that we stretched across the pond. And not to one or two people, we got an army over here! I look forward to it every year. I wish I could come more often, like three times a year, but look forward to it every time. This is so much fun.
So the European shows will stay an annual commitment then?
Well, yes. It has been for the last twelve years. Some of those were conventions but for the last ten we've been playing.
You'll also be at the Vampire Ball here in London this week. What will you be doing next?
I'll be going back to Los Angeles hopefully to work. We'll see. I'm in the mix for something that would be really cool if I got it. That's LA, you never know when your next movie is gonna come.
But 50 to 1 is coming out.
Yes, me and Skeet Ulrich just did unbelievable press at the Breeders Cup this last weekend in Santa Anita. I can't talk much about it but let me tell you this, the fans are gonna be psyched come March! The movie comes out March 21st and what we're gonna do to promote it, I can't talk about it because Jim Wilson has sworn me to secrecy, is gonna be awesome! But I can tell you that I'll be seeing a lot of people in a lot of different cities.
I know it's gonna premier in New Mexico
Yes it's gonna premier there and then it's gonna be….ah, I can't tell you! I know you, I know what you're doing, trying to pull it out of me. We got one of the biggest promoters on it. We really love this film and we really believe in it. I'm in the movie and knew the whole story but when I watched it for the first time I was tearing up at the end. Everyone was crying. And not because it's sad, that's the beauty of it. Ah, I can't get into it! But I think you'll really enjoy it. It's really a heartfelt movie.
Setlist Camden Jazz Café:
Happy Man
Thinking Of You
One I Love (David Gray Cover)
Whiskey In Mind
Let Me Go
Jolene (Ray Lamontague Cover)
Sever
Different Kind Of Knight
House Rules
ENCORE: Dusty Rose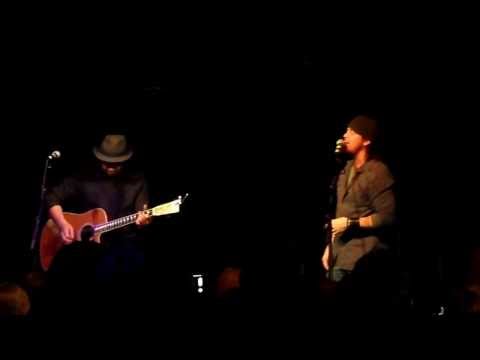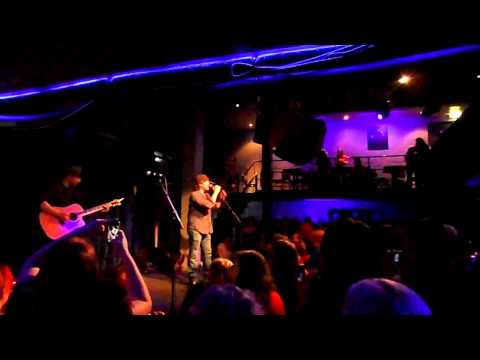 For more information on Christian Kane go to:
www.facebook.com/ChristianKaneMusic