Nashville, Tennessee – November 30th, 2013 – The Band Perry has been working hard out here in Europe. The siblings have been all over the continent leaving fans impressed by their energetic, fun show. Where else do you see fans leaving the concert venue still singing the songs they just heard. Great memories were created here.
Amsterdam was just past the halfway point of the European leg of their We Are Pioneers Wold Tour and the band took the time to sit down with our Marloes Lucy Duizer before getting on stage at the Melkweg. They talked about their show, their fans, Thanksgiving and much more. Have a look below for the interview and pictures and videos from their performance
You were in Paris yesterday and made it to Amsterdam this morning?
KP: We have. We had a day off and played last night for the first time ever in the city. And this is our first trip to Amsterdam and already it's one of my favourite stops of the tour with its canals. We walked everywhere today. It's a beautiful city.
So you did actually have some time to look around?
NP: We did. Reid and I were bag carriers for Kimberly and our mom. They went shopping and we were carrying the bags. We had a good day.
KP: We also went to the Anne Frank House. That's something we studied growing up so it was really cool to see that in person as well.
After this you'll have two days off, which will include Thanksgiving, what are your plans?
RP: Yes, we're traveling to Birmingham and will have our Thanksgiving meal over there. Turkey and all. We have something called sweet potato casserole, which is basically desert because we add some much vanilla extract and sugar. So yeah, it's gonna be a good day.
KP: And then afterwards one of the guys on our team, he was a former ballroom dance instructor, so we're gonna have ballroom lessons! And a game of poker.
Haha, I love the combination. Very classy and then straight down the drain it goes!
Group: Haha, yes definitely!
So you're here for Thanksgiving.  You said that your mom was here?
NP: She is. She flew in two days ago. She spend time in Paris with us.
At least for Thanksgiving that's nice. To have a bit of family around.
KP: Yeah our parents are both really involved. Our dad was over here for the first two weeks and then mom is gonna take the back two.
NP: He hated leaving.
KP: He did, he did. He would love to give up his day job in Tennessee and be on the road all the time. From the beginning our parents have been really involved. In some way they have always been the invisible forth and fifth members of The Band Perry. Mom is everything from band stylist to coach. We always review the shows afterwards and she makes comments on things that she sees because she's been there for just about every performance. So she knows when we were at our best and maybe when something needs some work. We call her coach.
So you're missing Thanksgiving at home but you'll also miss the airing of your own CMT Crossroads.
RP: I know, it airs on Black Friday.
KP: The good thing is that we got to see it ahead of time. It's a really, really great show. That was an amazing day. We've been fans of Fall Out Boy for quite a while but I didn't think we even knew how much we were gonna have in common until we all got together. Started hanging out and playing music together. It was a really special day.
NP: It was.
We don't get to see it. We don't have CMT or GAC or the magazines. Fans out in Europe rely on the internet and social media to get their information on you. How has social media influenced your career?  
NP: Well social media….
Is that your thing? They both just pointed straight to you!
NP: That's my thing. It's funny, each of us have our own area of expertise if you will. Kimberly, I guess, is the song director with the music and everything, Reid does a lot of the business kinda stuff; the meetings. He's the numbers guy and I like to do the social media stuff. I take photos and tweet them out. I think a big portion of the reason fans know who we are over here is because of social media.  Over in the States you got Country Radio, you got Pop Radio but over here it's not like that. And so I think depend on YouTube, Facebook and Twitter to learn about us. So it definitely plays a huge part. While we've been over here I've been instagramming photos pretty much….almost every hour to be honest. We love giving our fans exclusive content photos and stuff. And  I love it.
RP: When we came over we were expecting fans to maybe know 'If I Die Young" and one or two other songs but besides knowing the whole album they also knew other songs that aren't on the album. And it's because they went on YouTube and found us playing those songs live and they learned those as well. It's funny how small the internet actually does make the world.
NP: And one cool thing we've been doing while we we've been in Europe is we've taken photos at every single one of our shows and we send it back to America as kind of a postcard from our tour over here. So last night we actually got to send a real, official postcard from Paris. That kinda fulfilled a dream of mine.
You're past the halfway point of the European leg of the We Are Pioneers tour now. How has it been so far?
RP: Great!
KP: It's been really amazing. We've even felt the growth since we've been over. Started in Scandinavia, went to Germany second, Zurich next and then Paris. It's just cool to see the crowds grow and grow. Even from the reviews from earlier shows in the tour. And it feels like A. that we're making progress, we're out here trying to win hearts but B. our record Pioneer seems to be so well received by the fans here and it's been really cool to have conversations out here about all those songs, you know.
NP: Play live is our most favourite thing to do. Before writing songs and doing interviews, that's what we did since I was 8, Reid was 10 and Kimberly was 15. So one of the things that really excites us about coming to Europe is the crowd. They know every word to every song and they usually don't just sing it but they scream along and put their fists in the air. And that's one of the reasons that keeps us coming back over to Europe time after time.
KP & NP: We love it!
Is that the big difference between Europe and the US then?
NP: I think it is. Crowds listen in different ways. Some crowds listen because they wanna hear the lyric and others just like to come to a show just to move around and dance a little bit. I like both of those for different reasons. We're songwriters as well so we also appreciate crowds that take the time to listen to what we have to say. But we also like dancers too.
KP: Well that and I think that in the States they're acutely aware of what the singles are. And over here the singles are equal with everything else that's on the record. So for us it's really cool to see all those have equal life over here.
That's another difference. Compared to the US, people out here still buy albums.
RP: Yes!
KP: And we love that. We do, because write the album as a whole. In our opinion it's never meant to be three or four songs. We appreciate the singles business but we are still part of the record business.
Have you been working on new music while you've been out here as well?
KP: We have. I always find that we write differently when we're in Europe. I'm not sure why but our inspiration is different which is kinda cool. We take an hour long sound check and start jamming on new music. Today we did so, here in Amsterdam. I don't know, we just feel inspired differently which is crazy. Like even on this tour bus, I don't dream a lot normally, but I dream a lot on this tour bus. I think our imaginations are just opened up a little differently. So yeah, we've definitely been working on some brand new music.
Different impressions every single day.
KP: yes
RP: yes very true.
So what can fans expect from the show?
KP: A little bit of everything.
RP: I feel like the truest snap shot of the three of us is on stage. Just because we were doing that before we were doing interviews and writing songs so yeah, we love Rock 'n' Roll so you'll see a bit of that in the show. We will break it down to just the three of us acoustically at one point which kinda pays homage to our mom who loves country music and the softer genres. We also throw in a couple of tributes to our musical idols as well.
KP: And it's almost every song of Pioneer but we've, of course, also included the singles from the first record.
And maybe a specific cover song you're doing Neil? (hint…Fat Bottomed Girls)
NP: Yep, that's right. We're huge Queen fans. We grew up on Queen and when writing Pioneer we were listing to 'A Night At The Opera' so we will definitely be paying homage to Freddy.
KP: We might even be closing the show
NP: We may be! We don't wanna give to much away but we may, haha. You just need to go see it.
I will!
NP: great!
Make sure to have a look at the videos and photo gallery below as well.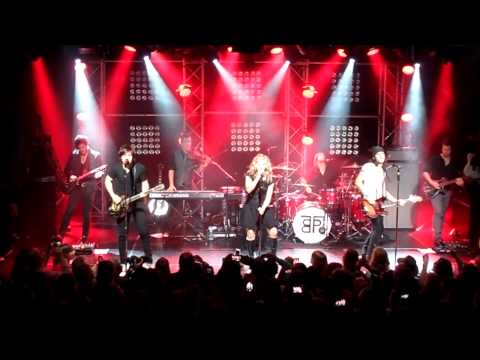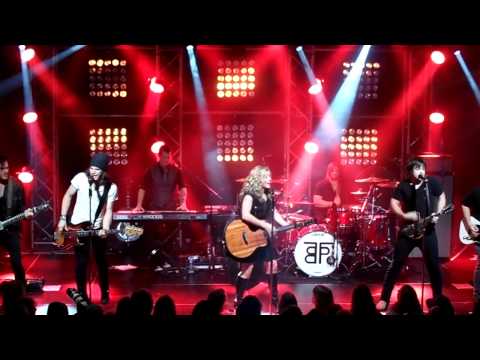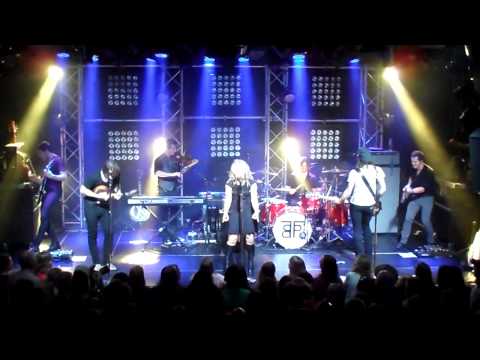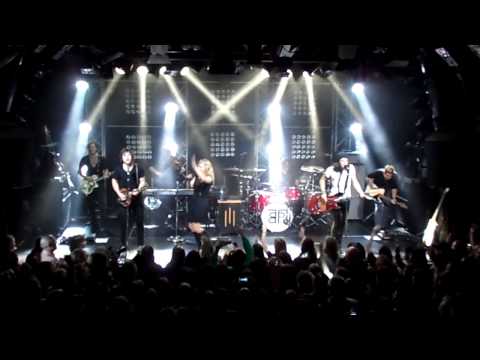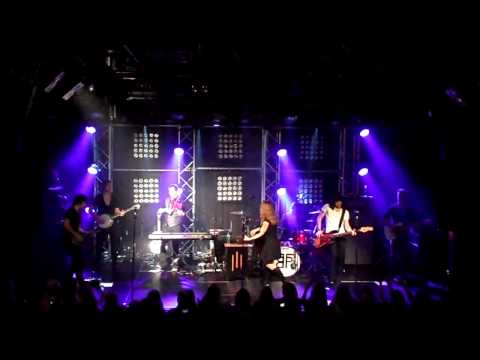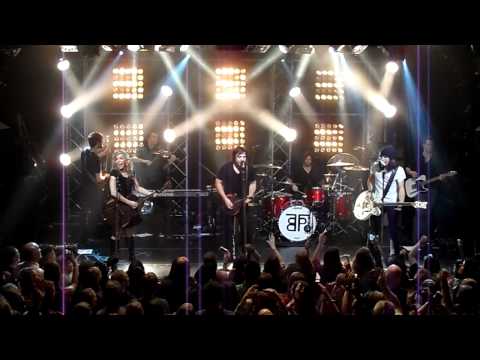 For more information on The Band Perry please go to:
www.thebandperry.com
www.facebook.com/thebandperry
www.twitter.com/thebandperry
www.youtube.com/TheBandPerry