I was first introduced to Mary Sarah when the Oak Ridge Boys invited her onstage to sing Connie Frances' hit Where The Boys Are at Galveston's prestigious Opry. I was hooked from that moment on. The girl can flat out sing! If you don't believe me, check out that performance here.
Well, yesterday, Mary Sarah sang the National Anthem prior to the Houston Texans/Carolina Panthers game. As you'll see from the video below, she did an amazing job. But, something else happened after her performance yesterday that has not only football fans, but the nation talking. Carolina Panthers' tight-end Jeremy Shockey commented to reporters after the game that he saw about 10 Texans players who didn't put their hands over their hearts during the Anthem. According to the Huffington Post, Shockey said, "I was pretty upset in the way they weren't showing respect to America during the national anthem," Shockey said. "This is America and you should at least give respect to America."
The Texans locker room was already closed, so their was no comment from the Texans at that time. Shockey went on to say, "This is America and this is just a game and they should not only be very proud of this country, but very gifted to be living here," Shockey said. "Maybe they just forgot to do it or something, but I don't see how you could forget to do that."
Needless to say, we're sure it was a day that Mary Sarah will never forget.
Click here to read the complete story about Shockey's statements from the HuffingtonPost.com, and click here to read an update on the story featuring a response from the Houston Texans' Demeco Ryans on ESPN.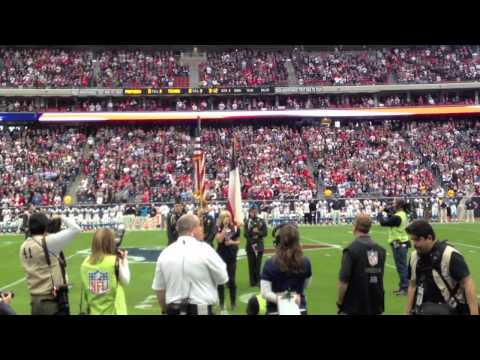 Like what you see here?
How about following us on Twitter, Facebook and Google+.
Also, if you're on Twitter, please join us for @JessicaNorthey's Country Music Chat, aka #CMchat at CMChat.net every Monday night at 6pm PST/9pm EST.  Thanks!